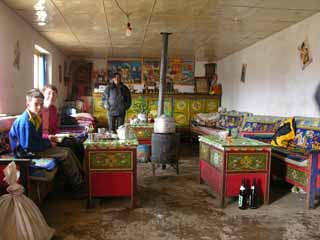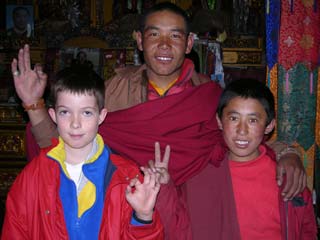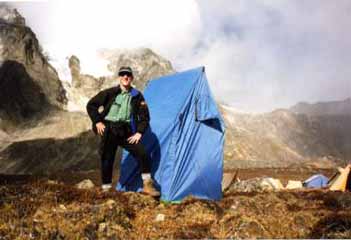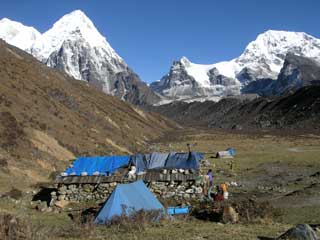 The old adage, "take only pictures, leave only footprints" is quite appropriate. I am truly amazed at people who do things that are so against the local culture, like dressing inappropriately or walking the wrong way around a Buddhist stupa. In addition to my comments on begging, here are a few suggestions on how to enjoy the local culture and not offend anybody.
1. Spend money locally
Spend as much of your travel budget as possible on local establishments, like restaurants, hotels, travel/trekking agents, equipment, etc.
Leave a donation at all religious sights, like Buddhist monasteries
2. Photographing People
Ask permission before photographing the local people. Spending some time with them beforehand is a good idea.
Do not pay to photograph anybody. It sets a bad precedent for other tourists.
But do promise to mail them a copy of the photo when you get home. And when you get home, remember to do it.
Don't buy anything that is endangered or of local cultural value
Never disturb local cultural objects, like prayer flags or rock carvings
3. Respect local conditions
Always dress appropriate to local tastes. For example, women shouldn't wear short shorts in Nepal.
Always circle a Buddhist religious object, like a monastery, statue or chorten in a clockwise direction.
Be careful to show any excessive dislike for the current government. When German tourists in Lhasa, Tibet, unveiled a 'Free Tibet' banner, they were immediately escorted out of the country. As my son Pete said, "Don't make fun of China, or they will kick your ass."
---
Responsible Trekking
For trekking, please take out what you take in and be extra careful with the local water supply:
1. The toilet
If there's a toilet, use it
If your crew crew are carrying a toilet tent make sure that it is at least 50m away from any water supply
If you have to use the toilet outdoors, make sure you are at least 50m away from any water supply. Also, don't bury it - it will decompose quicker on the surface
2. The camp
Be polite and ask permission before camping in a non-designated camping area, like somebody's field.
Don't allow your trekking agency to use firewood - they should use propane instead.
Make sure your crew burn as much garbage as possible and carry out the rest
3. Trekking
Avoid shortcuts that could damage the local plants or cause future erosion