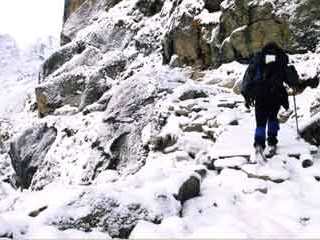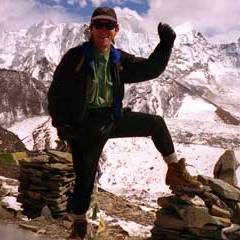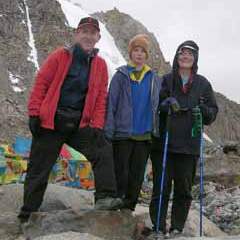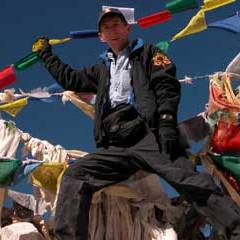 What does it take to be a high altitude trekker?
1. Mental Strength
2. Get physically fit
Exercise

- I exercise more and more intensely in the eight to ten weeks leading up to a trek. In addition to an hour of daily hiking, I hike about 25km on the weekend mainly through ravines and parks. I walk up and down small hills and a set of steps many times.

Simulate your trek

- I use the exact equipment I will use on the trek to ensure everything is in order, whether it be my boots, walking stick or rainproof outer shell. Although it's just common sense, you'd be surprised at how many people foolhardily start trekking in a new pair of hiking boots. As I get closer to the trek, I even fill my knapsack with the exact contents I will carry with me.
3. Get good equipment.
Hiking boots

- The most important part of your body when you trek are your feet. So, it is critical that you buy good hiking boots. I paid $300 for my boots in 1997 and I still use them today.

Hiking socks

- I use polypropylene liner socks beneath my wool socks. I have never had a blister in all my treks. I have seen other trekkers who skimp on boots or socks and have blisters the size of dollar coins.

Trekking pole

- I use only one pole - if the Pakistani Balti porters use only one stick, then that is good enough for me. A trekking pole can help save your legs during endless uphill grinds and reduce stress on your knees, hips, and lower back. They are also useful for negotiating trails or creek beds with uneven terrain.

Clothing layers

- I cover my thermal underwear with trekking tights and a light trekking shirt. If it is cool I add my fleece jacket. If it rains or gets cold I add my waterproof pants and Gore-Tex outer shell.

Sunglasses

- The sun is especially strong at high altitude. Make sure you apply plenty of sunscreen, and wear a good pair of sunglasses.

Sleeping bag

- I use a three-season sleeping bag rated for 0C because it is lightweight. I keep my thermal underwear and socks on to add extra warmth. I wear my balaclava to ensure I don't lose heat through my head. As it gets colder, I leave more and more of my clothing on.
4. If you are trekking by yourself
5. Stay healthy