Updated: January 2010. Click on an image to see the FULL size with a caption.
Mera Peak is the most popular trekking peak in Nepal with relatively straightforward access and uncomplicated climbing. Mera Peak has two main summits - the higher North summit (6476m) and the slightly lower Central summit (6461m). The first ascent of Mera Peak was made on May 20,1953 by Jimmy Roberts and Sen Tenzing, who appear to have climbed the central summit. The Mera West Face is a magnificent 1800m rock face cut by diagonal snow bands and draped with fingers of ice. The first ascent of Mera Peak West Face was completed by Japanese climbers Kunihiko Kondo and Michiko Kiyoda in the spring of 1985.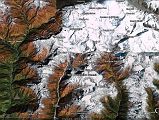 Mera Peak Trekking Routes
The normal access route is to fly from Kathmandu to Lukla (2800m), climb over the Zatrawa La (4600m) to Tuli Kharka (4400m), descend to the Hinku Valley, trek up the Hinku Valley to Kothe (3600m), Tangnag (4350m), and Khare (5000m). The trail climbs steeply from Khare onto the Mera Glacier to the Mera La (5415m), and on to Mera High Camp and the Mera Peak Central or Northern Summit. After climbing Mera Peak, many people continue up the uninhabited Hongu Valley and cross over the Amphu Labtsa (Lapcha) Pass (5780m) to the Chukung Valley, and either continue on to Gorak Shep and Everest Base Camp or back to Tengboche, Namche Bazaar and Lukla.
My route was from the other direction via Makalu Base Camp and the West and East Cols and down the Hongu Valley. I returned down the Hinku Valley and over the Zatrawa La to Lukla.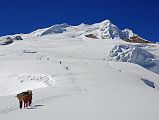 Mera Peak Climbing Route
The climb starts from the Mera La (5415m), turns south and follows easy angled snow slopes, with a few steeper sections, that lead without difficulty to Mera High Camp (5770m), a rocky outcrop that marks the divide between the Mera and Naulekh Glaciers. There are magnificent views from Mera High Camp of Kangtega, Cho Oyu, Gyachung Kang, Nuptse, Everest, Lhotse, Baruntse, P6770, Makalu, Chamlang and Kangchenjunga.
From the high camp the central summit (6461m) stands at the head of a wide glacial bay with the north summit (6476m) to its right. The route climbs the bay and broad ridge above high camp to join the ridge at the central summit from the east. There is then a short steep slope to the central summit. For the north summit bypass the central summit on the north side and follow easy snow slopes.
The view from Mera Peak is one of the best in the world with five of the world's six highest mountains visible. From the west, the view includes Kangtega, Cho Oyu (#6), Gyachung Kang, Pumori, Malanphulan, and Ama Dablam, Nuptse, Everest (#1), Lhotse (#4), Lhotse Middle and Lhotse Shar, Peak 38, Shartse, Peak 41, Baruntse, P6770, Kangchungtse and Makalu (#5), Chamlang, Peak 5, Peak 6 Tutse, and far off to the east Kangchenjunga (#3) and Jannu. Magnificent!