K2 - 8611m - #2 In The World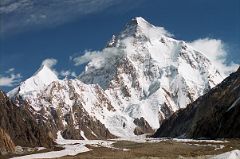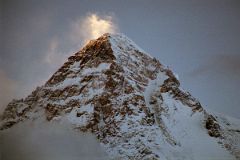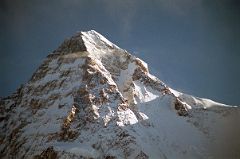 K2 (8611m) is the second highest mountain in the world, and is thought by many climbers to be the ultimate climb. It is much more difficult and dangerous than Mount Everest. Its giant pyramid peak towers in isolation, 3900m above the wide Concordia glacial field at the head of the Baltoro Glacier. In 1856 Capt. T.G. Montgomerie of the Great Trigonometric Survey of India saw a cluster of high peaks from a point 137 miles away in Kashmir, and entered them as K1, K2, K3 and so on, with K standing for Karakoram. K1, K3, K4 and K5 were eventually renamed Masherbrum, Broad Peak, Gasherbrum II and Gasherbrum I respectively. But, K2 kept the surveyor's notation as its common name.
The mountain's remoteness had rendered it invisible from any inhabited place, so apart from an occasional local reference as Chogori (meaning Great Mountain or Big Snow Mountain), it had no other name prior to Montgomerie's survey. Since that time, the name Mount Godwin-Austen has occasionally been used, in honour of the man who directed the survey. For the most part, however, K2 has been the name of choice, and has even evolved into Ketu, the name used by the Balti people who act as porters in the region. The sheer icy summit is flanked by six equally steep ridges. Each of its faces presents a maze of precipices and overhangs.
The Karakoram ("Black Mountains") and Himalaya are the newest mountains in the World. Pakistan has the largest concentration of high mountains in the World. There are more than 100 peaks over 7,000 meters within a radius of 180 kilometers. Five of the 14 8000-metre peaks in the world are in Pakistan. Peaks above 3,000 to 6,000 meters are countless and remain unclimbed and unnamed. Out of 100 highest peaks in the world, more than 50 are in Pakistan.
Jim Wickwire from the Foreword for the book Five Miles High:
"For many climbers K2 – even more than Everest – is the ultimate mountain. At 28,250 feet, it is second only to Everest, a scant 800 feet higher. With its classic pyramidal shape, K2 is steep on all sides. It is the perfect embodiment of our mental image of what a great mountain should be like. The climber who has designs on K2's summit must not only content with extreme altitude and difficult rock and ice, but with sudden storms that deplete strength and erode willpower."
Jim Curran describes his first view of K2 in his book K2 Triumph and Tragedy:
"The sight made my flesh crawl, and took away what little breath I had. K2. There it was, unequivocal, real, present, impassive and quite momentarily huge. A great triangle that hung like a gigantic backdrop to the silent amphitheatre of Concordia."