Climb Mount Elbrus, Russia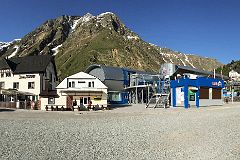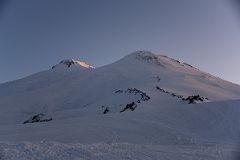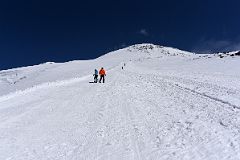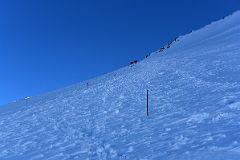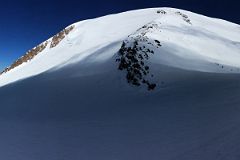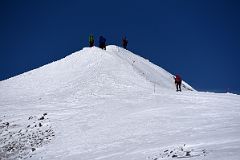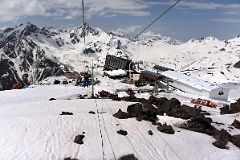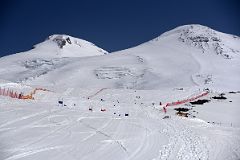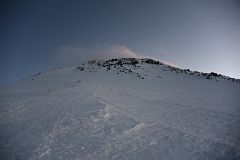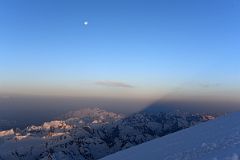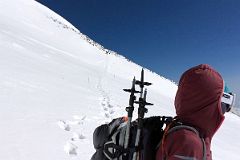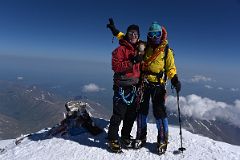 Mount Elbrus is the highest mountain in Europe and therefore one of the seven summits, the highest peaks of the 7 continents. Elbrus has two summits, both of which are dormant volcanic domes, the slightly higher west summit at 5642m and the east summit at 5621m. The mountain is in the Caucasus Range in Russia near the border with Georgia.
After flying from Moscow to Mineralnye Vody, we drove down the E50 main highway and turned off to the A158, driving through a gorge and then with mountain views to Azau village 2375m. I met my guide Liza Pahl and we took a short hike above the village to stretch my legs.
The next morning, we took a cable car to Krugozor Station 3000m, switched to a second cable car to Mir Station 3500m, and then finally a chair lift to our very comfortable camp at Garibashi 3730m. After lunch we took a short hike up to about 4070m.
After breakfast on day 3, we took a ski-doo to our high point from the previous day and climbed, sometimes steeply, up to Pastukhov Rocks 4700m.
Day 4: summit day! After an early breakfast of porridge and coffee, we took a ski-doo to Pastukhov Rocks 4700m, and started our climb at 3:20am. The sun soon rose giving a spectacular view of Mount Elbrus and the surrounding mountains like Donguz-Orun and Shdavleri. After an initial steep climb, the traverse was more gentle leading across the East Peak before descending to the saddle 5355m.
After an initial steep climb from the saddle, Liza and I roped up to climb through a band of rocks to the summit plateau. A short stroll across the plateau led to the summit at 8:45am with great views of the East Peak and surrounding mountains. Overall, a very pleasant and enjoyable summit day!