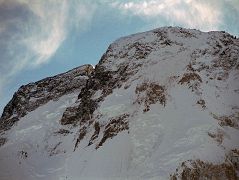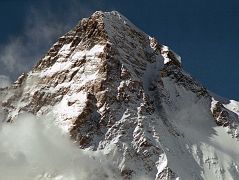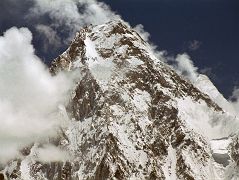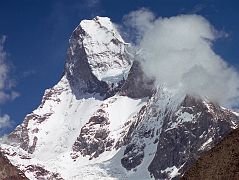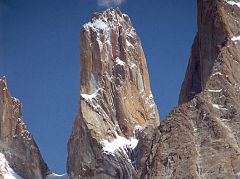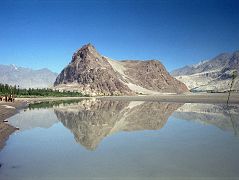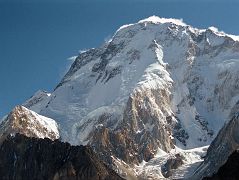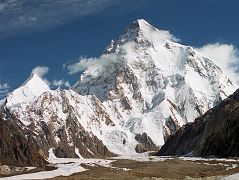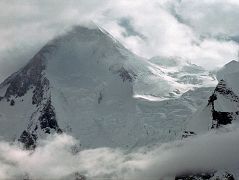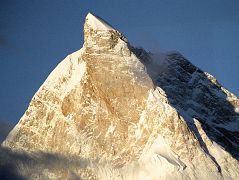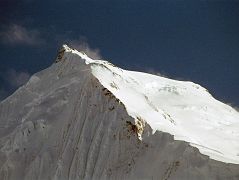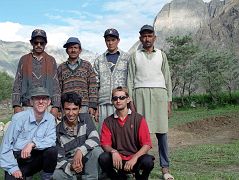 Updated: June 2011. Click on an image to see the FULL size with a caption.
Broad Peak - 8047m - #12 In The World
To see the full list of photos, see K2 Photo Gallery.
In 1856 Captain TG Montgomerie, a British army survey officer working in what is now northern Pakistan surveyed a number of peaks in the Karakoram from a distance of about 200km. He catalogued the peaks by number, giving each the prefix K for Karakoram. The first five peaks are now called: K1 Masherbrum, K2 K2, K3 Broad Peak, K4 Gasherbrum II, K5 Gasherbrum I.
British explorer William Martin Conway renamed it Broad Peak in 1892: "There was a fine breadth of mountain splendour displaying itself on the right of our view - a huge Breithorn, as it were, filling the space between K. 2 and the hidden Gasherbrum." - Climbing and exploration in the Karakoram Himalayas By William Martin Conway.
Broad Peak has three separate summits: main summit 8047m, central summit 8016m, and north summit 7550m. There is some controversy whether Broad Peak Central is a mountain to itself or not. Many climbers stop at the fore-summit, less than 20 vertical metres but a long hour or so walk away from the main summit.
---
---
Broad Peak First Ascent
---
Other Notable Broad Peak Ascents
---
My Top 5 Memories Of Broad Peak
1. View from Concordia includes K2, Broad Peak, Gasherbrum IV, Gasherbrum II, Baltoro Kangri, Mitre Peak, Paiju Peak, Crystal Peak and Marble Peak. Gasherbrum I becomes visible at Gasherbrum Corner at the junction of the Upper Baltoro Glacier and the Abruzzi Glacier.
2. View from Khoburtse at sunrise includes Paiju Peak, Uli Biaho Tower, Trango Castle, Cathedral and Lobsang Spire.
3. Masherbrum shines at both sunset and sunrise from Goro II camp on the Baltoro Glacier.
4. Trango Nameless Tower and the Great Trango Tower from the Baltoro Glacier on the trek from Paiju to Khoburtse
5. Skardu, situated next to the Indus River, has beautiful lakes and sand dunes